Back To Our Services
There is nothing worse than the garage door opener failing or malfunctioning to ruin your entire day or night. There are many different types of opener but the most common types are; Chain drive, belt drive and screw drive. Even if you don't know what kind of drive you have for your garage door opener. We can come out for the service when you need our help. If you call our 24 hour a day hotline at 702-560-6931 you will be put into contact with one of our friendly operators who will take down your information including your name and address. It can be a business or a private residence and the same day that you call us we will send out one of our technicians.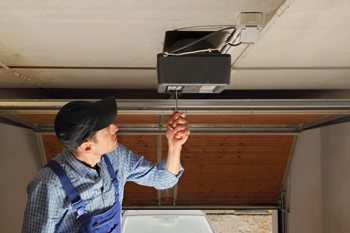 We come out in trucks that are fully stocked with the most name brand in opener like Genie, Liftmaster, Chamberlain, Craftsman, Sears and Marantec. We carry all these parts in the name brands because we want to make sure that we can get your garage door needs met the same day. We don't want you to have to wait while we special order parts because you might have a garage we are not familiar with instead we provide prompt expert service.
We take pride in the fact that we've been fixing garage door opener for many years now.
We have learned through experience and training how to fix your garage door needs quickly and effectively. We never scrimp on service just because we are able to do something quickly. We take care of garage door opener every single day so that means we are simply efficient at our jobs. We think of everyone in Henderson as family and we treat you as we want our family members to be treated by others.
Garage Door Opener Henderson will take good care of both your home and business because we want to make sure that everything is working correctly. We can also instruct you on how to take care of your garage door after we've installed or repaired your existing opener. We do all sorts of work and working with opener is just one of our services. We can work on everything that has to do with your garage door including the tracks and springs as well as installing whole new garage door systems. Updating you to a whole new garage door if that's what you are interested in. We offer quality brands and also total custom garage doors to suit any taste or style.
If you are looking to improve the street value of your home or business getting a new garage door could be just the thing you are looking for. We have custom colors and brands and also materials like wood, glass, fiberglass and metal garage doors which will surely go with any theme that you might have for your home. We truly are the number one in service and installation of garage doors and garage door opener in all of Henderson. For more information feel free to call us at any time.
Back To Our Services