Back To Our Services
From the view point of functionality of a garage door, every part holds its unique importance but garage door tracks hold special significance. The tracks allow the door to move smoothly up and down without any Jiggle. When you've got a garage door off the track or you need to replace the garage door track then look no further than our expert services of Garage Door Cable Tracks Henderson. We specialize in fixing all of your garage door problems but most importantly we take care of tracks and cables. When you are thinking about replacing garage door track there are a few things you should consider first. The actual problem could be far less than you anticipated the garage door could just be off its track and need not to be replaced by a whole new set of tracks or it could be a garage door cable loose or cable off the drum.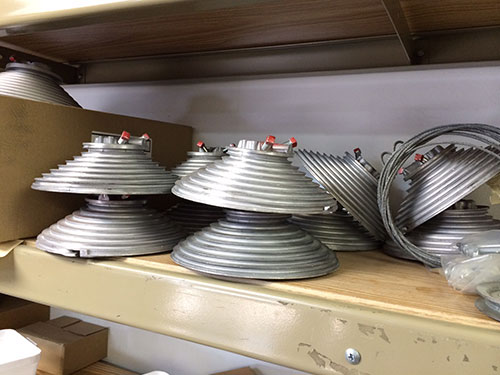 We are here for all your needs with experience, knowledge and knowhow
It's best if you give our 24-7 hotline a call so that you can speak with one of our very knowledgeable and friendly staff members and with same day service allow one of our specially trained repairmen come to your home or business and figure out what the problem is. Garage doors can be maintained by the home owner or business owner but without proper training and experience things could get messed up and it could be dangerous as well.
We will come to your home or office usually the same day that you call because we are dedicated to keeping family and business' safe from harm that might occur due to a broken cable or to repair bent garage door tracks. Any of these issues that come up could actually pose a big threat to someone untrained. Also, if the garage door tracks or cables are damaged and are not repaired in time it can further deteriorate the condition of garage door and could lead to a more costly repair later on down the road. It is important that as soon as you sense a problem you should call our service center so that we can send our specialist to your home or office to determine the problem right away and our professionals at Garage Door Cable Tracks Henderson will handle the rest and you will have your problem solved in no time.
Calling 702-560-6831 24 hours a day 7 days a week will allow you to get into contact with our customer support team who will then issue a work order to a technician that will be in your area on the same day. Once they have the work order they will come to where you are, and assess what is going on with your garage door. Once they've given it a full inspection they will write you up an estimate that covers parts and labor. When you know exactly the figures you will be charged you are more than free to see if other garage door companies in Henderson will give you the same deal at a competitive price but we are sure that you will stick with us. We will do the job right then and there because our trucks are stocked full of name brand parts for all garage door track and cable issues.
Back To Our Services